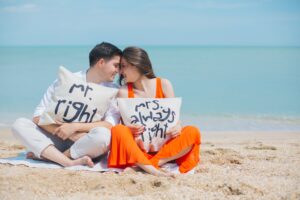 Conflict in relationships is unavoidable, but with the right skills and tools, we can handle conflict respectfully, learn more about our partners, and problem-solve issues. The key is effectively managing conflict to create a stronger bond and grow closer as a couple. Below are six ways to improve your conflict management skills.
Listen Actively: When we are in conflict, we often listen to respond instead of listening to understand. Our partner is talking, and instead of paying attention, we are formulating our comeback or making our case for why we are right, and they are wrong. We are not actively listening; we merely hear some of the words and do not fully process the message. Tip: Do not interrupt. Take turns talking. Make notes while your partner is explaining how they feel instead of spending that time thinking about your response. Confirm your understanding of the message before responding. Ask questions. Be curious.
Be Aware of T&B (Tone and Body Language): Tone is a big trigger when managing conflict, as is nonverbal communication. We hear a tone that we interpret to be condescending, which elevates the conflict and leads to frustration, defensiveness, and hurt feelings. When responding, we stand with our arms crossed, stomp around the room, or demonstrate other negative nonverbal messages. Tip: If you hear what you interpret as a negative tone, respectfully say the word "Tone" to your partner. Give them a chance to start over and rephrase or restate the message. Often, the speaker does not recognize that they are using a "tone" – it is not intentional, and how they deliver the message may not mirror how the receiver interprets it. Another option is for the receiver to clarify the meaning. "That tone sounded condescending to me. Is that how you meant it?"
Think Before Responding: Sometimes, in the heat of the moment, what pops into our brains immediately comes out of our mouths. I call this "lizard brain." Pure emotional reaction. No pause. No analysis. No thought is given to the effect our words may have on the recipient. And if they are harsh words or negative comments, we cannot undo them, and our partners cannot unhear them. Think before you speak. Recognize when you are emotionally charged and remove yourself from the situation; you can always return to the conversation after a break. Tip: Pay attention to your body. You will often notice a physiological response when you are flooded or stressed. Heart racing, sweating, chest pains, clammy palms. Take several deep breaths and if needed, take a time out (see below). Give yourself some space between the initial thought in your brain and the subsequent words that come out of your mouth.
Take a Time Out – And Communicate It: If an argument becomes personal and heated and emotions are high, take a time out. Walk around the block, agree to circle back when tempers have calmed, or go to another room. The key is to communicate that you are taking a time out. Storming out of a room or walking away from your partner without letting them know you are taking a time out generally leads to hurt feelings, further frustration, and continued conflict. Tip: If you often need to take a time out, agree ahead of time on how to communicate when you need that time out. Whether making a "T" with your hands or coming up with a code word that means "time out," preparing ahead of time and agreeing on a universal sign will help when emotions are high, and space is needed.
Recognize That There is More Than One Side – and Play For The Same Team: A typical conflict trap I see when doing premarital counseling with couples is the win/lose mentality and the need to be right. The term "stubborn" often comes with a negative connotation, and sometimes being stubborn can be detrimental to your relationship. There is nothing wrong with having an opinion or feeling strongly about something, but when "dying on your hill" comes at the cost of your relationship, it is time to assess what is most important. Getting hung up on the facts and establishing who is right and wrong leads us away from recognizing that other perceptions exist. If your primary goal is to "win," you are not playing on the same team. Tip: Recognize that your partner's approach may be just as valid as yours. Be open to another opinion, listen to understand, ask questions, and validate your partner. That does not mean agreeing with them or changing your stance. It means being kind, respectful, curious, and open to understanding there can be more than one way to look at something. It means recognizing that, by playing on the same team, you are coming together to solve an issue for the betterment of your relationship.
Change the Pattern Yourself. Just as it takes two to tango, it takes two people to create/maintain a conflict. And it takes effort on each person's part to develop new, more effective conflict management patterns. In a perfect world, you will be on the same team and open to learning new ways of managing conflict. But if your partner is not on board, change the pattern yourself. If your partner's raised voice typically leads to you yelling back, practice regulating your response and speaking calmly. If your partner gets upset and you withdraw and leave the room, force yourself to stay and be present in your response. If your automatic reaction is, "well, you do it too," stop focusing on the facts and seek to understand where your partner is coming from. Doing something to disrupt the negative pattern that inevitably happens each time conflict arises in your relationship can create new behavior patterns, more effective ways of managing conflict, and fewer hurt feelings.
Interested in learning more? Click here for information about PREPARE/ENRICH, or set up your FREE 30-minute introductory session here!